Prostate Massage
For any man there was a way to reach orgasm different from the usual one, through the anus, by massaging the prostate. Prostate massage – also called "Sacred Spot" massage is the best a man can get in terms of orgasmic experience.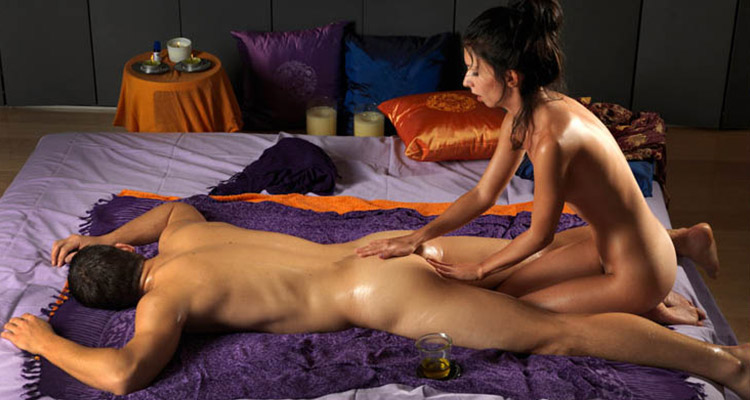 What is the prostate?
It's attached to the neck of the bladder & secretes a whitish, viscous liquid whose function is to stimulate the movement of the sperm.
So guys, it's an organ linked to the moment of ejaculation, since part of the semen is composed of the liquid that it secretes. It's chestnut shaped and is next to the rectum.
The stimulation of the prostate alone can lead to an orgasm and ejaculation. The fact is that it is a different way of reaching orgasm because it is a very erogenous zone that many women (and guys) don't know about. Come on, if a woman asks you how you can get your partner to have an orgasm without touching the penis – most would look at you blankly..
Yes, you can just stimulate the prostate but doing that and focusing on the lingam (penis) with a massage bends minds in its live of intensity. Its easy to do and its actually recommended to try your first prostate massage with an expert rather than letting your significant other wag their digits around.
If you're experience with prostate massages then I am already preaching to the converted and you KNOW how amazing it is.
NO RUSH
There is no rush. Your masseuse will take your lead, she'll listen and watch attentively to what you are enjoying. She'll work on your back, she touch and stroke your thighs, gently squeeze and mould your testicles, stroking and rubbing your Lingam (penis), and then maybe return again to the anus, even putting a little finger inside while they continue stimulating other areas.
It is your reaction what will say whether to continue or stay for the moment there. The best position to do it is with you lying on your back with your legs flexed, as it provides better access initially but the masseuses are flexible and talented and can work around most angles for you. Your only job is to relax and have fun.
The prostate is quite close to the entrance of the anus, so your masseuse does not have to insert much of her finger. She'll use a latest glove and some lube to help the process and keep you comfortable. When the masseuse feels the prostate, your will know.
Its a sensitive area so her touch will be gentle. A little discomfort the first time is not unusual but you'll soon move past that into erotic delight. With this massage any man can usually reach orgasm and in some cases the are more intense than in genital orgasms. If in addition to the prostate massage other areas are stimulated, (which the Diamond masseuse typically do for you) such as the perineum, testicles or penis, you will get a moment of pleasure unless anything else you've had before!
So what are you waking for, take the step and release your best climaxes with a prostate massage now.
BOOK YOUR MASSEUSE
Our Erotic Massage Sydney agency is open 7 days a week from 10 am until each day and have a variety of different masseuses who are available. If you would like to have a look at our masseuses first you can have a look at them on the gallery page and you can get more of an idea about what services they offer. Once you have selected your erotic masseuse and chosen which sensual massage you would like then all you need to do is to call us and make your incall or outcall booking.
For incalls you will simply need to tell us what time you want to book to see the masseuse although to confirm the booking for outcalls you will need to tell us the name and address of your hotel and room number and for home visits we will need to call you on a landline number and we will just need your home address.